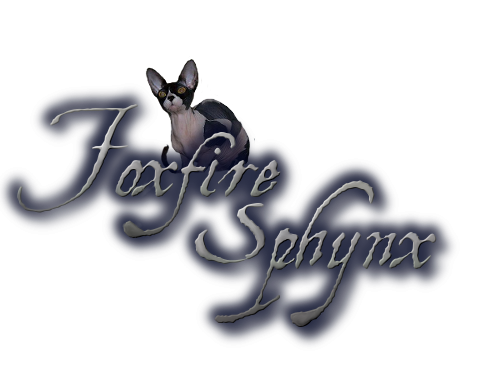 Elegance in Sphynx Cats
Foxfire Sphynx Queens
"Baldfantasea Lady Heather"

Sire: CH. Merrill's Nude Dude Of Cyber-Sphynx

Dam: CH. Cyber-Sphynx Alegria Baldefantasea

A BIG welcome to "Heather" from Cybersphynx! Thank you Theresa for trusting me with this lovely lady!!
"CYBERSPHYNX FOXFIRE DARE TO BE BARE" CFA/TICA
Call name "2B" (to-be) Blue/White (Retired to CA!)
"Baby" above and to the left, Tortie Color

2B peeking in picture!
"CYBERSPHYNX BARE BOTTOM BABE" CFA/TICA
Call name "Baby"
Cindy Harken
3763 Spirit Lake CTF RD
Spirit Lake, ID 83869
208-660-3730 PST

1999~2008 ~Foxfire Papillons and Foxfire Web Design~ All rights reserved. This Site and ALL Content, text and Graphics are Protected by LAW! Questions? Comments? Write to our Webmaster.